Improving Water Quality
The Lower Boise Watershed Council works to address and improve water quality issues in our watershed. Water quality improvements focus on restoring or maintaining beneficial river uses, such as fish habitat and recreation.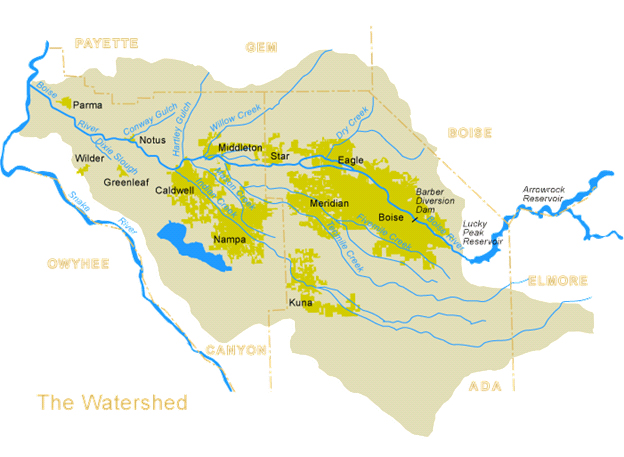 Certain reaches of the mainstem lower Boise River and some of its tributaries are impaired by pollutants. By figuring out exactly where the problems are, we can figure out the most effective solutions.

For example, the entire mainstem Boise River and many of its tributaries have too much sediment. Within the river, temperatures are elevated, phosphorous concentrations are high, and bacteriological pathogens have also been found. In addition, uses in the downstream Snake River are limited primarily by phosphorous, sediment, and bacteria from the lower Boise River.

So the Council is currently focusing on reducing sediment, bacteria, phosphorous, and temperature.
Grant Assistance
| | |
| --- | --- |
| | A grant program is available to agricultural owners and operators in Canyon County. We administer these grants jointly with the Canyon County Soil Commission, with assistance from NRCS and ISCC. Contact lbwcexecutivedirector@gmail.com for more information. |
Data Reports
Available Data
Over the last 30 years, the LBWC and local stakeholders have studied the lower Boise River extensively. The most thorough compilation of water quality data is maintained by the U.S. Geological Survey.

USGS Water Quality Data
In addition, the USGS maintains a real-time gage at Parma.


http://nrtwq.usgs.gov/id/
Published Reports
2014, February: Lower Boise River Phosphorus: AQUATOX Model Report – Draft 2

2014, February: Lower Boise River Phosphorus: AQUATOX Model Calibration Comments

2014, February: Lower Boise River Subbasin 2014 Total Phosphorus Addendum

2013, June: Draft Lower Boise River Tributaries TMDL: 2013 Addendum

2010, December: Pesticide Residue Evaluation, Second Year Synoptic Evaluation, Lower Boise River and Tributaries, 2010, ISDA Technical Report Summary W-39

(PDF, 1.2 MB)

River Restoration Projects in the Boise River Watershed

(PDF, 5 MB)

, 2009, Compiled by Trout Unlimited with cooperation by numerous local, state and Federal agencies and private landowners. http://www.tedtruebloodtu.org/

Modeling Spatial Water Allocation and Hydrologic Externalities in the Boise Valley, 2009, U.S. Department of the Interior, Bureau of Reclamation, and University of Idaho.

(PDF)

Water Quality Monitoring Report, Lower Boise River and Snake River Tributaries, April 24 through October 9, 2008, 2009, Idaho State Department of Agriculture, Division of Agricultural Resources, ISDA Technical Report Summary W-29

(PDF, 454 KB)

Pesticide Residue Water Quality Report, Lower Boise River Tributaries, 2009, Idaho State Department of Agriculture, Division of Agricultural Resources, ISDA Technical Report Summary W-34

(PDF, 655 KB)

Interim Legislative Committee on Natural Resources, Treasure Valley Working Group, Final Report (Draft), 2004, Idaho State Legislature

(PDF, 350 KB)

Phosphorus and Suspended Sediment Load Estimates for the Lower Boise River, Idaho, 1994 – 2002, USGS

(PDF, 1.2 MB)

Ground and Surface Water Interaction Related to Nutrients within Mason Creek Agricultural Drain, Canyon County, Idaho, 2002, Idaho State Department of Agriculture

(PDF, 2.5 MB)

Water-Quality and Biological Conditions in the Lower Boise River, Ada and Canyon Counties, Idaho, 1994–2002, USGS

(PDF, 3 MB)

Influence of Canal Seepage on Aquifer Recharge near the New York Canal, 2002, IDWR

(PDF, 800 KB)

Domestic, Commercial, Municipal, and Industrial Water Demand Assessment and Forecast in Ada and Canyon Counties, 2001, IDWR

(PDF, 1.3 MB)

Biological Assessment of the Lower Boise River, October 1995 Through January 1998, Ada and Canyon Counties, Idaho, USGS

(PDF, 463 KB)

Lower Boise River Reconnaissance Study, 1995, U.S. Army Corps of Engineers

(PDF, 6.4 MB)
Related Web Links
News
2010, January 9: Boise's innovative plan to build wetlands is being watched across the country, Idaho Statesman News Story by Bethann Stewart

(PDF, 24 kb)

2010, January 3: We can all help to ensure the Boise River stays clean, Idaho Statesman Guest Opinion by Johanna Bell

(PDF, 22 kb)

2007, November 24: Conserving, Reusing Wastewater is Solution to Storage, Idaho Statesman Guest Opinion by Jack Harrison

(PDF, 400 kb)

2005, April 18: Reducing Phosphorous Levels in Rivers is Community Effort, Idaho Statesman Guest Opinion by Tom Dupuis

(PDF 3.5 MB)

2005, February: Phosphorous Inputs into Boise River Must Be Reduced, Western Canyon Chronicle interview with Sherrill Doran

(PDF, 2 MB)

2001, June 22: Cleaner River Benefits All of Us, Idaho Statesman Guest Opinion by Tom Dupuis and Tom Krumsick

(PDF 300 kb)

2000, November 26: Clean Water Act Revisited, Boise River Represents Best, Worst, of Water Care, Idaho Statesman Special Report

(PDF 3 MB)

2000, April 22: Deal Aims to Cut Pollution; Project Will Lower Phosphorous in Boise River via Effluent Trading, Idaho Statesman

(PDF 700 kb)

1998, November 15: Boise River Will Play Guinea Pig for Cleanup; Trading Aims to Aid Farms, Industry, Idaho Statesman

(PDF 400 kb)